1. Go to Hotmail home page and sign in.
2. Click Options on the right corner of the page, choose More options
3. Follow the link of Safe and blocked senders under Junk e-mail.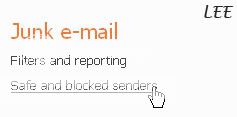 4. Click Blocked senders under Safe and blocked senders.
5. Type the undesired email address under Blocked e-mail address or domain, then click Add to list.
6. If you want to remove the address, just click on the blocked sender and click Remove from list.


Did you enjoy this article? If so, we'd love to hear your thoughts in the comments below. It would be great if you subscribed to our RSS feed or signed up for email updates to get more goodness. There's lots more where this came from!